The family of a Memphis man who was hospitalized and died after a traffic stop with police is demanding the official release of body camera and surveillance footage of the encounter.
Tire Nichols was taken to the hospital in critical condition after Memphis police officers pulled him over for reckless driving on January 7, the department said in a statement the next day. Nichols died at the hospital three days later.
Civil rights attorney Benjamin Crump, who is representing the Nichols family, is now calling on police to release footage of the stop, saying in a statement that "all available information tells us that this was the tragic and preventable death of a young man". man."
"No one should be killed by a simple traffic stop – the images are the only way to discern the true narrative of why and how this happened to Tire," Crump said.
Family members also rallied outside the National Civil Rights Museum with protesters Monday, holding signs with photos of Nichols. Rodney Wells, Nichols' stepfather, was among the family protesting the Martin Luther King, Jr. holiday weekend. NBC affiliate WMC reported.
"You shouldn't be in a dialysis press machine looking like this because of a traffic stop," Wells told WMC.
According to the Memphis Police Department, a "confrontation" ensued between Nichols and officers as they approached his car on January 7. He then left on foot and the officers gave chase.
"While trying to detain the suspect, another confrontation occurred; however, the suspect was ultimately apprehended," the department said in the Jan. 8 statement. "Afterward, the suspect complained of having difficulty breathing, at which point he was called for an ambulance."
Police did not provide details of the confrontation, but a photo of Nichols at the hospital provided by his stepfather showed blood on his face and what appeared to be a swollen eye.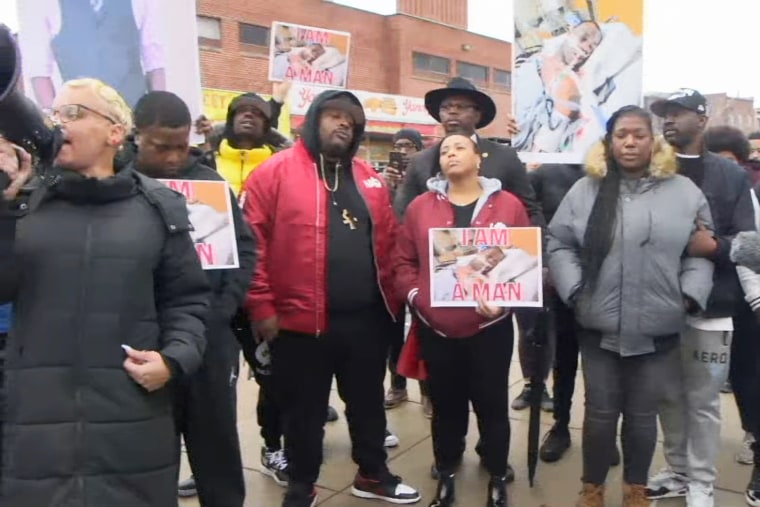 The Memphis Police Department said in its opening statement that the District Attorney General's Office had been contacted and the Tennessee Bureau of Investigation was asked to investigate the incident. The officers, who were not identified, were relieved of their duties pending the outcome, a routine practice.
On Sunday, Memphis Police Chief CJ Davis said the department was "notifying" officers of "imminent administrative actions." The department's statement said it expected to conclude the "disciplinary and investigative administrative process" within the next week.
"After reviewing various sources of information related to this incident, I have found that immediate and appropriate action is necessary," Davis said.
Memphis Mayor Jim Strickland told residents the city was "prepared to take immediate and appropriate action" once the investigation was concluded.
"Make no mistake, we take departmental violations very seriously and while we must complete the investigative process, our top priority is to ensure swift justice is served," Strickland said.