San Diego State guard Darrion Trammell fouled out with less than 2 seconds remaining in the Elite Eight matchup against Creighton and converted a free throw to send the Aztecs to the Final Four.
Creighton's guard, Ryan Nembhard, appeared to grab Trammell's hip as he made a leap. A referee called a foul and allowed Trammell a chance to win the game. He missed the first free throw but hit the second to put San Diego State up 57-56.
CLICK HERE FOR MORE SPORTS COVERAGE ON FOXNEWS.COM
Baylor Scheierman's long pass downcourt to try to set up a Creighton teammate for a game-winning shot was deflected. The officials reviewing the play determined that time expired when the ball went out of bounds and the game ended.
The end of the game sequence sparked debate on social media.
FLORIDA ATLANTIC CONTINUES THE CINDERELLA RUN AND SECURES A FINAL FOUR PLACE IN THE INSTANT CLASSIC OVER KANSAS STATE
San Diego State would advance to the Final Four for the first time in school history.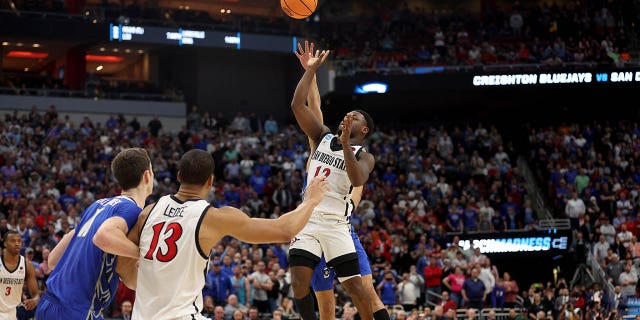 Trammell finished with 12 points and five rebounds. Free kicks late in the game were his only attempts of the game. Lamont Butler led San Diego State with 18 points.
San Diego State has beaten Charleston, Furman, Alabama and now Creighton to reach the Final Four. The Aztecs will play Florida Atlantic, who is also in the Final Four for the first time.
CLICK HERE TO GET THE FOX NEWS APP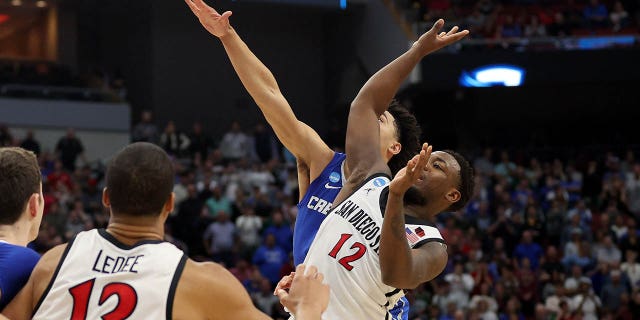 The Final Four games are scheduled to start on Saturday.