North Dakota State offensive lineman Cody Mauch turned heads as NFL scouts descended on Mobile, Alabama for the Senior Bowl to see the next great player.
Mauch played tight end in high school in North Dakota and was co-senior athlete of the year in his region before committing to the Bisons. According to his biography, Mauch was a "scouting player who provided depth on the offensive line." For 2019, he played in all 16 games.
CLICK HERE FOR MORE SPORTS COVERAGE ON FOXNEWS.COM
As scouts and reporters took a good look at the 6-foot-6, 303-pound offensive tackle, he was asked how he went from being a tight end to an offensive lineman of his stature.
"Honestly, I was just eating," when asked what he changed in his diet to make him gain 85 pounds. "I had to go buy an unlimited plan at the food center and we had to make 15 meals a week. I was probably getting 26-27 meals a week. I was always there eating."
TOM BRADY IS NOT THE BEST SUPER BOWL NOR THE BEST QUARTERBACK OF THE REGULAR SEASON, SAYS THE SPORTS RADIO LEGEND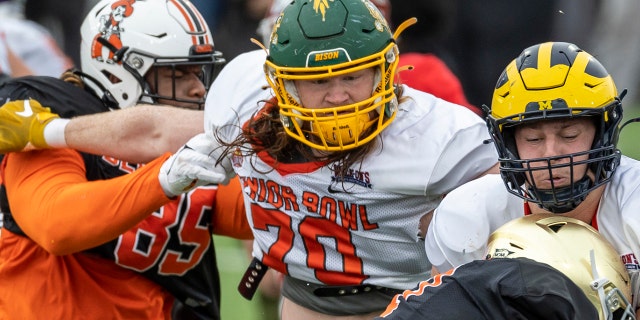 "I didn't plan on making all the weight. I was just a little hungry. Coming from a small school in North Dakota, we didn't have much of a weight program. So when I was able to do room weight as well, I definitely saw myself taking some steps."
Mauch was featured in NFL.com's Seniors Day analysis on Wednesday. He was working at guard and center while showing how flexible he can be on the offensive line.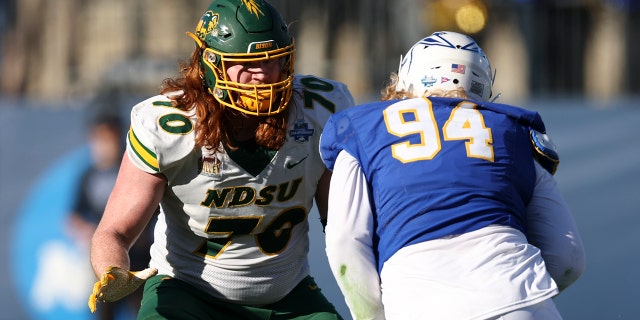 CLICK HERE TO GET THE FOX NEWS APP
"I can definitely see myself there (on guard)," he told reporters. "I thought it was actually, you know, a good day, especially for my first time as a guard, and obviously, (there are) things to figure out. So I'm excited for the start and now just to see how we do." you can finish it."